Phyto Replenish Oil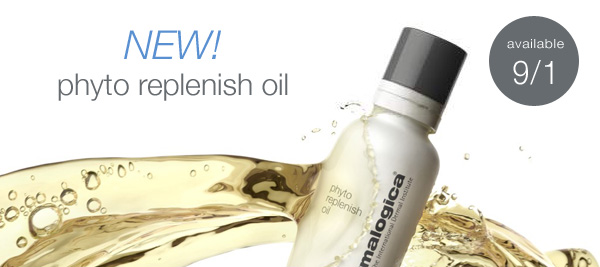 Get that Dermalogica Glow
NEW Phyto Replenish Oil works in 3 phases to transform dry, lackluster skin into healthy, luminous skin.

Why Your Skin Needs Oil
Aging and environmental stress can deplete the skin's protective lipids over time, leaving skin vulnerable to dryness, dehydration and damage. Phyto oils, or plant skin, are a powerful substitute for skin lipids – and they don't add greasy shine.

Make Phyto Part of Your Daily Regimen
After cleansing, press 4-6 drops into skin. Follow with your recommended Dermalogica Moisturizer, or mix Phyto Replenish oil into your moisturizer.  Ideal for daily use on normal to dry skin.

Stop in to check out the new Phyto Replenish Oil from Dermalogica or ask your skin care specialist.